A new survey shows USP/TR-369 agent certification is more important than ever.
The Broadband Forum recently released the results of a survey of over one-hundred Communications Service Providers (CSPs) on the future of the connected home. In addition to valuable data about the growth of "Smart Wi-Fi" and their specific pain points, the survey asked about their deployment plans for the User Services Platform (USP/TR-369) now and in the near future.
The survey revealed that 76% of those surveyed have either deployed USP solutions or plan to within the next 12 months, with managed Wi-Fi being the main driver, and smart-gateway applications a close second. From the report:
USP… is seen as a key development for both further Wi-Fi optimization, as well as enabling the delivery of new broadband value-added services and smart home managed services – two fundamental strategic areas for broadband service providers as discussed in this report.

Interest in USP by the broadband service provider community is high as its seen as one of the important steps towards enabling the connected / smart home services of the future. In Omdia's Service Provider Connected Home survey 31% of respondents stated that their companies had already started to implement USP, with a further 45% stating they expect to do so in the next 12 months.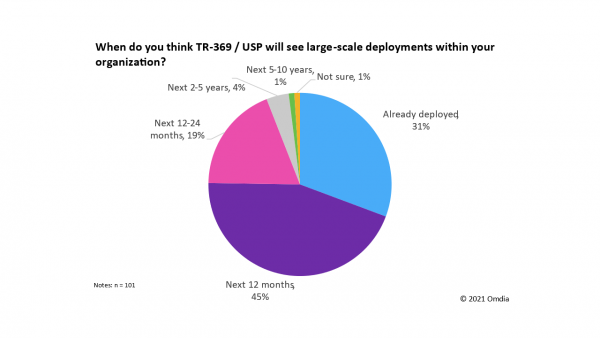 You can download the full report here.
These results show that, for software developers, ISP network teams, and CPE vendors, now is the time to seek USP/TR-369 certification. Contact us to find out how the BBF.369 self-testing program works and how you can get certified now, getting your solution to market.